The LHS Drama Club Presents "Murder Can Be Habit-Forming"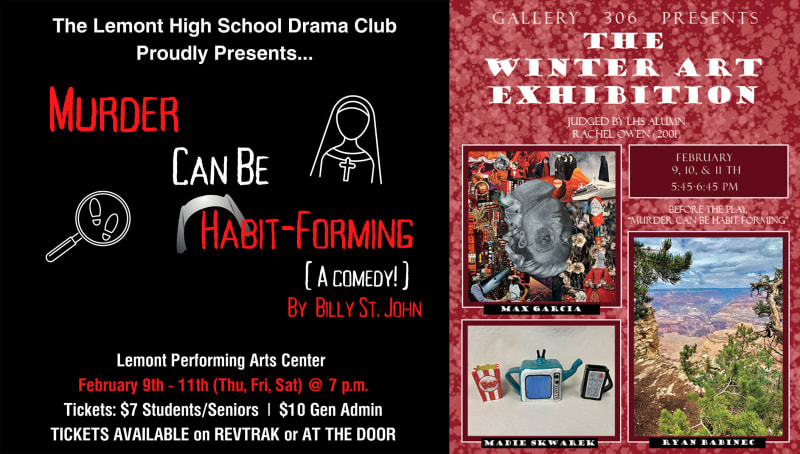 Every night from Thursday, February 9 through Saturday, February 11 at 7pm, the Lemont High School Drama Club will be performing the comedic murder-mystery "Murder Can Be Habit Forming."
Tickets are $10 for adults and $7 for students and senior citizens.  They can be purchased online at https://lemont.revtrak.net/clubs-and-activities/clubs-and-activities-drama-club/drama-club-events/ for pickup at Will Call the night of the selected performance.
Before each performance from 5:45pm to 6:45pm, the LHS Art Department will be hosting an exhibition in 306 featuring student art.
The play, written by Billy St. John, is about a bus load of passengers stranded by a blizzard in upstate New York who find their way to St. Mary's Convent, where the Reverend Mother Mary Cecilia provides them lodging for the night. One of her guests is a serial killer known as the "Mary Murderer," whose victims are all named Mary. Unfortunately, five of the Reverend Mother's nuns are named Mary, as are a number of passengers from the bus. This certainly makes for an interesting evening in the convent, where no one feels safe! The light-hearted mystery comedy provides as many laughs as chills.
For more information, please visit https://www.lhs210.net/about-us/news-releases/posts/~board/general-news/post/lemonts-drama-club-will-feature-comedy-murder-can-be-habit-forming.
For more information on Lemont High School, please visit https://www.lhs210.net/ or https://www.facebook.com/lhs210.