Lemont Legends Cruise Nights: August 3, 2022 Show Information
For Emergency Vehicle Night, we will be closing roads starting at 5pm.  We look forward to bringing you Emergency Vehicles from across the State.  Please note that only authorized Emergency Vehicles will be able to park in this dedicated section of Main Street - which is indicated in the map located further down this page.
Last Update:  8/3 at 11:20am
With our latest call with the National Weather Service, they are predicting storms in the area from 1-3pm.  There is a chance for rain all night, however, this percentage decreases every hour on the hour (5pm - 50%, 8pm - 20%).  Based on this information, we are still proceeding with tonight's show.
Please remember for show updates, you can text CARSHOW to 877-728-1814.  If weather changes, including during the show, this is the best way to stay updated.  
UPDATED DOWNTOWN LEMONT CONSTRUCTION INFORMATION
Last Update:  8/3 at 10am.
Construction will begin on the block at the NW Corner of Lemont has started.  Construction fencing has been erected in approximately half of the parallel parking spots on the north side of Canal, west of Lemont street.  Car parking will not be available in those 5-6 spots closest to the intersection.  The other half of this section will be reserved for our food trucks.
This could change (and further spots could be added) as we get closer to this week's Car Show.  We will keep this page updated.
We have reflected the effected area on the parking map lower on this page in purple.
Star of the Show - Sponsored by the Village of Lemont
Thank you to the Village of Lemont for sponsoring this weeks "Star of the Show" trophy.  The winning Emergency Vehicle will receive a $100 LHG Card, usable at several locations in Lemont and Homer Glen.
DJ Sponsor - Nick's Tavern
Nick's Tavern is synonymous with Lemont, and you truly haven't visited the Village unless you stop and enjoy a Nickburger.  The tavern has been in business since 1945, and they have been featured on numerous TV spots, including WGN and Chicago's Best.
Stop in, have a Nickburger, and enjoy this week's Lemont Legends Cruise Nights.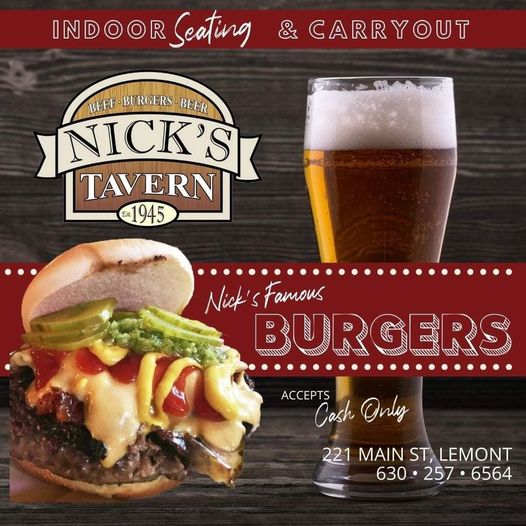 Parking, Food, Drinks, and Portable Restrooms
Please note that only authorized Emergency Vehicles will be allowed to park in our "blue" section, which is indicated in the map below.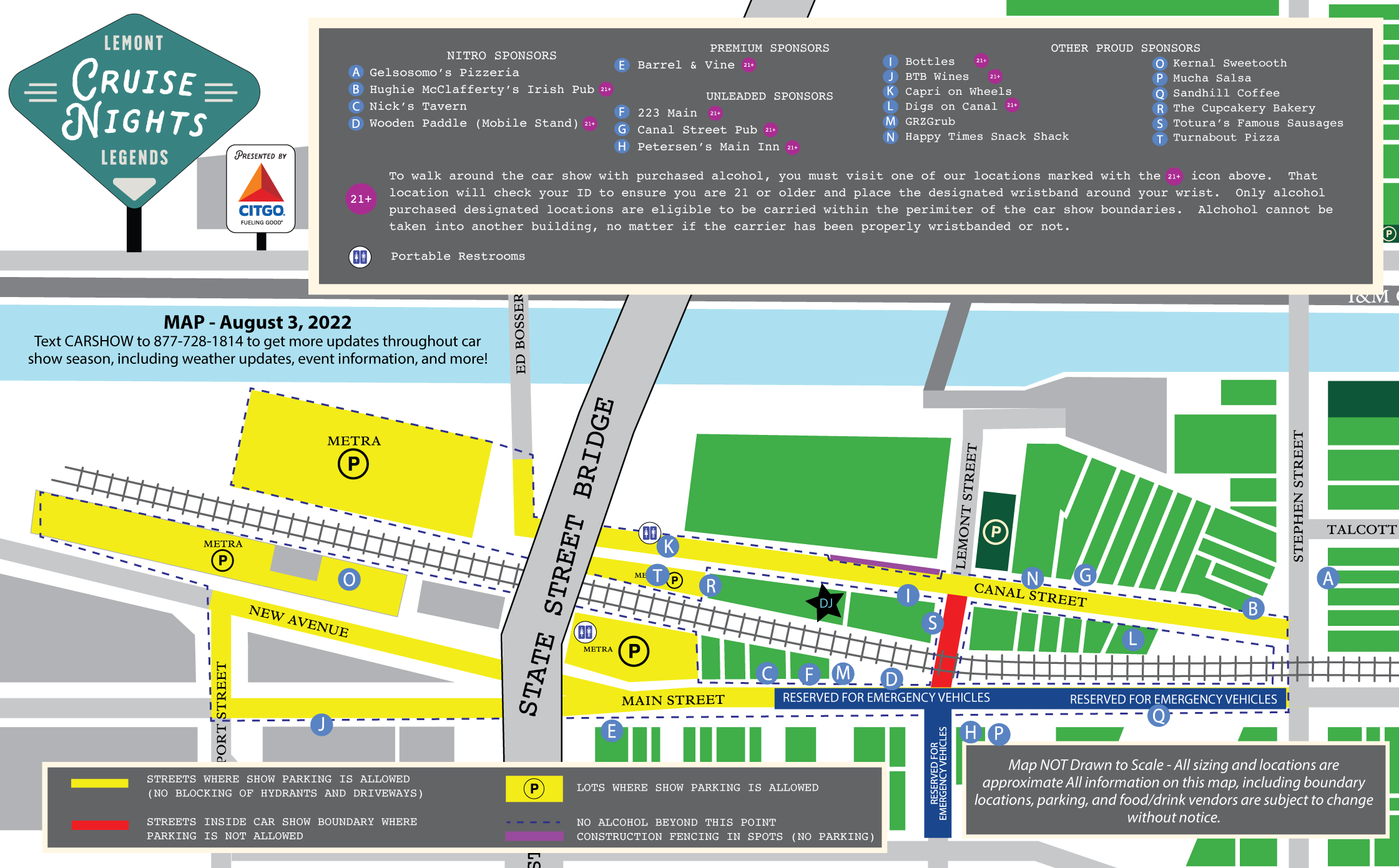 Special Freebie from Matt's BBQ for First Responders and Public Works Field Employees
Matt's BBQ is offering a free pork slider to any first responder or Lemont Public Works field employee during tonight's car show.  Please bring proof of employment when you come to Matt's.  Matt's is located on the SW Corner of Canal and Lemont (308 Canal Street).
Congrats to Josh H and family for winning our "Star of the Show" Award for Motorcycle night. Josh has a 1918 Harley-Davidson that is definitely museum-worthy.
Josh received a $100 LHG Card along with a plaque, sponsored by Aqua Pools. (Whether you are looking for a pool or need service/repair, Aqua Pools can help you! AquaPoolsOnline.com).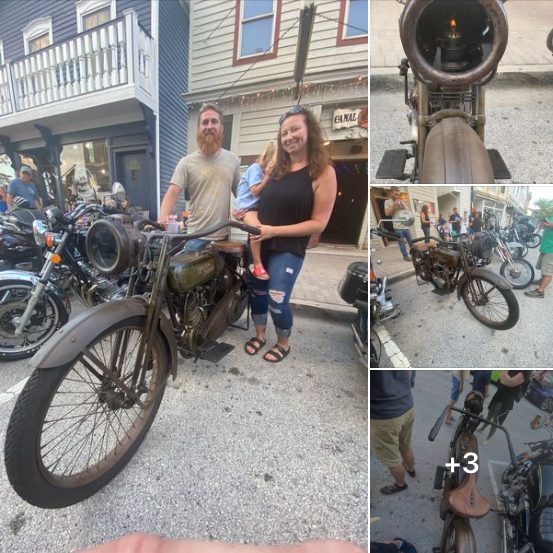 Want to get text updates on the Lemont Legends Cruise Nights?  Text CARSHOW to 877-728-1814 to get updates throughout car show season, including weather updates, event information, and more!
Prefer email?  Get your Wednesday email updates at 12pm noon all throughout car show season.  Click on the link below to subscribe to our e-newsletter. Join the E-Newsletter List