10 Ways to Get More Business Reviews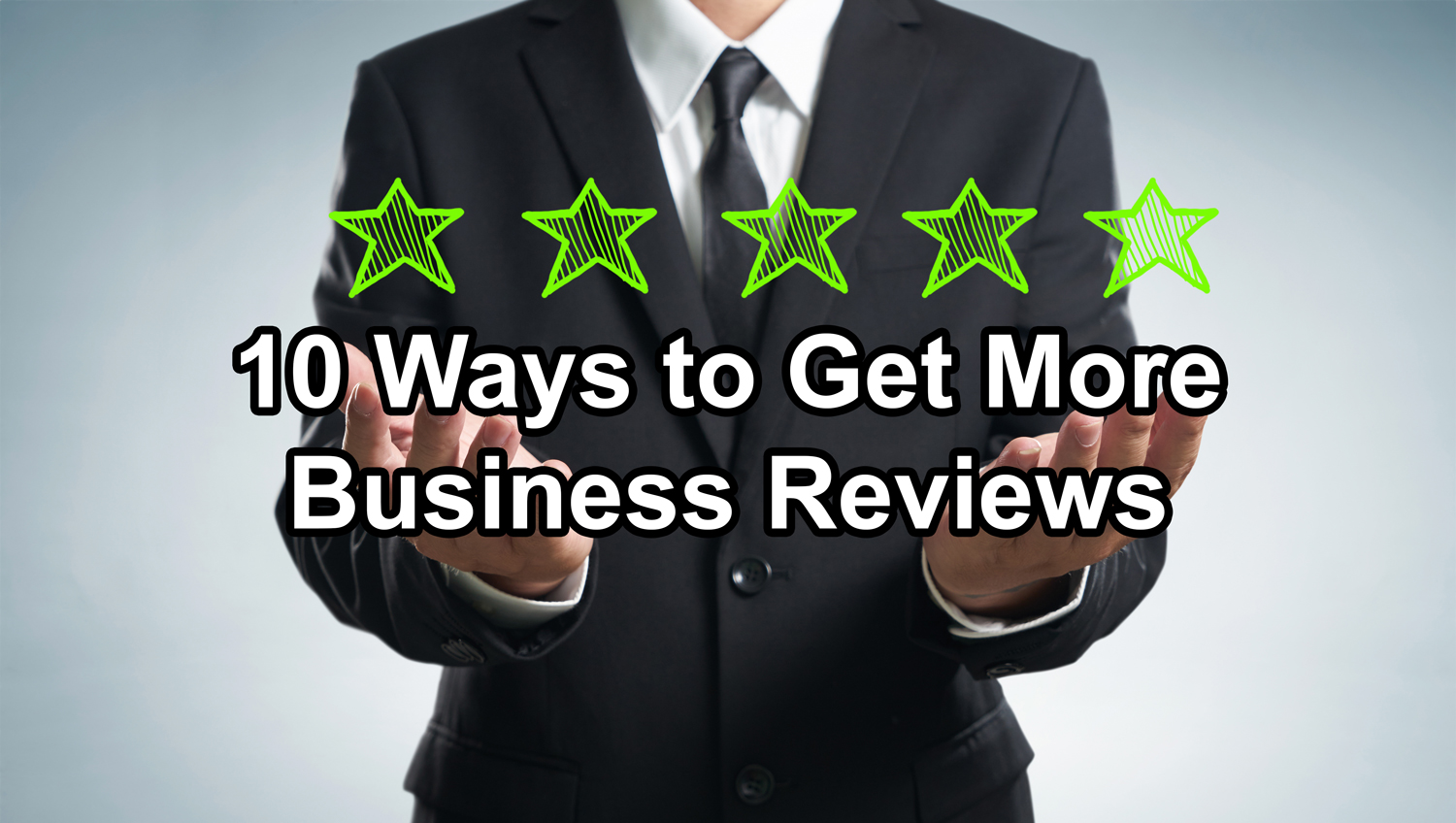 You may have seen in the news that Amazon is suing the administrators of more than 10,000 Facebook Groups over Fake Reviews.  Individuals used the groups to coordinate misleading reviews in exchange for free products or money, according to the suit.  Using these groups is NOT the way to get business reviews, and may get you sued in the long run.
Business reviews are a way to establish credibility and social proof.  And, whether you're a restaurant or a widget maker, a service provider or a online platform, legitimate reviews can be vital to your organization standing out over the rest.  Whether those reviews are on Facebook, Google, Yelp, or other sites, we're going to list some ways that you can motivate your current customers to help.
In no particular order:
Put a link on your website and ask for the review.
Use a QR code in your physical business that leads straight to a review site.  Periodically, change the QR Code to point to a different review site to help balance out your scores on the major sites.
Send a thank you email or postcard to people after they buy and add a request for a review.
When someone pays you a compliment, thank them, and ask they if they could write a review.  If they decline, ask if they would mind if you used their words in a testimonial.
Search on social media.  People may be talking about you without you realizing.  (For example, there may be a local Facebook group where you business is mentioned often).  Now, when you find a great quote - don't just post it.  Ask the writer if you can use them, or if they would be willing to copy/paste what they said on a specific review site.
Add a star rating to your website that allows visitors to give you a quick rating.
Post reviews openly on your site with a link for people to add their own.  Show extreme appreciation for your reviews.  If they're visible and openly appreciated, it may influence visitors to leave their own.
Reach out to those who left you negative reviews to see what you can do to turn it around.  They cared enough to mention the dissatisfaction, so see what can be done to turn their negative into a positive.
Provide a discount coupon (or special bonus) to anyone who leaves a review.  Don't tell them ahead of time.  Make it a nice surprise.  Here, you're hoping that your customer tells their friends to leave a review as well along with getting bounceback sales.
_______________________________________
Dan Mulka is the Executive Director of the Heritage Corridor Business Alliance and has worked with hundreds of small businesses through his tenure with the HCBA and Heritage Corridor CVB.  He also has worked with Illinois' Largest Water Park, a nationally-televised Thanksgiving Parade, and other freelance clients to help them get their "Biggest Bark."
Christina Metcalf is a writer/ghostwriter who believes in the power of story. She works with small businesses, chambers of commerce, and business professionals who want to make an impression and grow a loyal customer/member base. She loves road trips, hates exclamation points, and believes the world would be a better place if we all had our own theme song that played when we entered the room. What would yours be?
Twitter: @christinagsmith
Facebook: @tellyourstorygetemtalking
LinkedIn: @christinagsmith