Limited Time Offer: Free Design on New Projects from Automated Companies
Automated Forms and Graphics is offering a special limited time special from July 27 to August 31, 2022.  The Alliance uses Automated for a lot of their signs and other projects, and we highly recommend them.
Get free design on all new projects for printing or advertising promotional projects.  Perfect for projects like:
Banners
Signs
T-Shirts
Banner Stands
Postcards
Business Cards
Coffee Mugs
Presentation Folders
Brochures
Labels
and more
Find out more and see what Automated can do for you by contacting Lauren at 630-887-9811 or [email protected].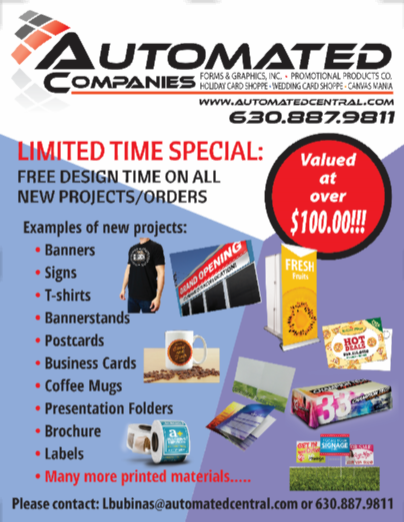 Members:  Looking to promote your special(s)?  Log in to your portal and submit a "Hot Deal," or contact Dan at [email protected].