Help Kick Off Summer Learning 2022 – A Note from the Lemont Public Library District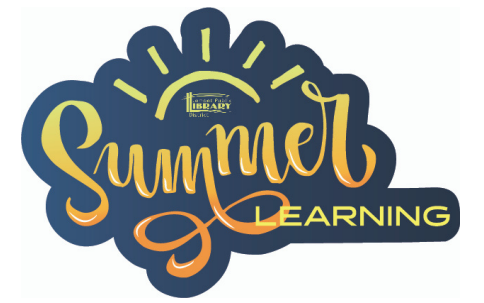 As another school year quickly comes to a close, we are the library are hard at work preparing for our favorite time of the year:  our Summer Learning Challenge.
As teachers begin their well deserved breaks and students run out of the classrooms in search of summer fun, the library steps in to provide on-going learning opportunities to avoid the dreaded summer slide.  Studies show that students who do not read over their summer can lose up to two months of reading skills learned in school.
To accommodate all of our learners and patrons, we have adapted our Summer Learning Challenge to focus on all forms of learning.  Our program promotes learning through reading as well as doing, seeing, watching, and absorbing.  We incentivize our patrons all summer and reward them for their continued work towards learning and success.
There are many ways you can support the Summer Learning Challenge, including merchant coupons, gift cards, or monetary donations for prizes and programs.   Large or small, any contribution to the program is appreciated.  With your help, we can offer exciting incentives to encourage everyone to read, learn, and visit the library all summer long.
Supporters of our Summer Learning Challenge will be featured on our social media, on the app that our patrons use to track their leaning, and throughout the library.  If you are interested in supporting the library in a more long-term way, we are always looking for new library partners.  Library Partners will additionally be featured on a large banner for the community to see and in other advertisements.
If you need any other information or would like to make a donation, please feel free to contact Shannon Kazmierczak in Outreach or Beth Kerns in Youth Services.  We are excited to partner with agencies and businesses, new and returning, in the community.
Thank you in advance for your support of this essential program to encourage literacy in our community.
Sincerely,
Beth Kerns
Youth Services Manager
[email protected]
630.257.6541 x5000
Shannon Kazmierczak
Outreach & Programming Manager
[email protected]
630.257.6541 x5360