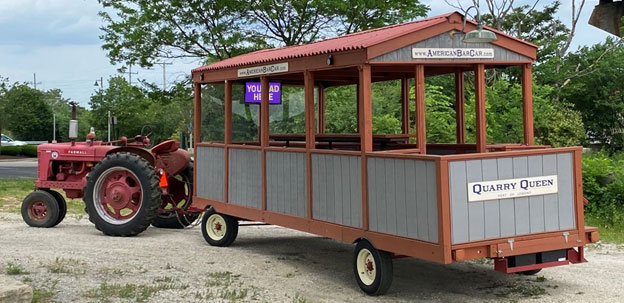 Advertise Your Business on the Quarry Queen
Those that visit Lemont Downtown often have probably seen the Quarry Queen.  Many have probably enjoyed a ride on the bar car as well!
For those unfamiliar, the Quarry Queen is a unique tractor party wagon that comfortably seats 14 people and, in total, can hold 20 or more guests.  The Queen can be booked for tours of Lemont, as well as family parties, bachelor/bachelorette parties, weddings, birthdays, reunions, and more.  BYOB, then relax, listen to the amazing tunes on the sound system as the multi-colored lights set the scene on the inside.
Business owners, did you know that you can run advertisements over the onboard television?  Secure your 30-second ad (no audio) for September and October for $250.  Ads are repeated multiple times during the tour, and the HCBA will design your ad for you.
Quick stats:
The Quarry Queen averages 3 tours a weekend, with approximately 15 to 20 riders.
Customers are typically from Lemont, Homer Glen, and the surrounding areas.
Each tour is two hours long, and your ad will be repeated multiple times throughout the tour.
Advertisements are only for members of the HCBA.  Thank you to the American Bar Car Company (operators of the Quarry Queen) for your partnership.
To sign up for advertising, please contact Julie Thomas at 630-257-5997 or [email protected].
Find out more about the Quarry Queen by visiting https://americanbarcar.com/.