How the Event Works
The event is easy.

Arrive at check in to receive your six drink tickets. You will meet with your assigned group, where chaperones will be waiting to whisk the group away to its first stop.
Each ticket is good for one specified drink at each location.
Approximately every 40 minutes, your group will move to the next stop on the walk.
The event concludes at our Witches Tent (located next to Next Mex). There will be dinner (tacos from Mucha Salsa), dancing (featuring DJ Jeff), costume contests and more.
Where to Park
The most convenient place to park will be at Lemont's parking garage, which is located at 310 River Street in Lemont.

As you walk to from your car to the event, head south (towards the Canal). You will emerge from the garage between Next Mex and the event tent where you will check in.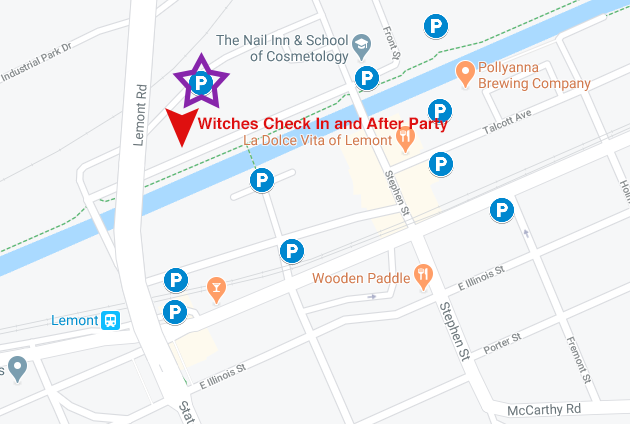 Check In
Bar Crawl Participants:  Check in will occur from 3:30pm - 4:30pm
Dinner Only Participants:  You may arrive starting at 8:00pm for dinner.
Drink Tickets for Bar Crawl Participants
You will receive six drink tickets upon the start of the Witches Walk.

If desired, you can use multiple tickets at one location. If you run out of tickets before the end of the night, you are welcome to purchase drinks directly from the location with cash.
You also can decide to "save" drink tickets for another stop.
Costume Contest
Come dressed up! We will be giving away prizes to the best dressed at our afterparty, which will start approximately at 8:30pm.
WHAT YOUR MONEY GOES TO
Proceeds from ticket sales benefit the Lemont Park Foundation and Heritage Corridor Business Alliance.

THANK YOU TO OUR SPONSORS